Volunteering at Chattahoochee Nature Center
April 8, 2021
---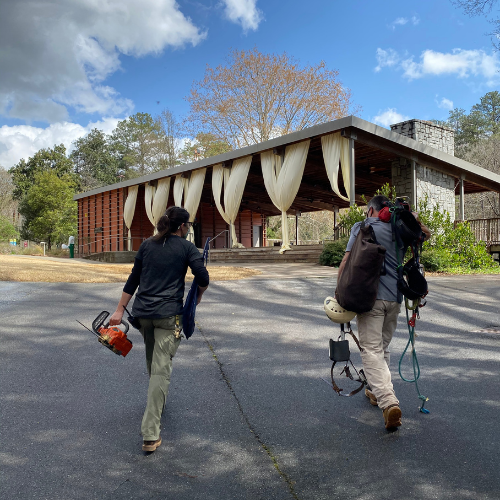 Sprucing up the Eagle Enclosure
This spring our certified Lead Arborist, Nick LeCroy, dedicated his time and services to the Chattahoochee Nature Center to help trim a troublesome tulip poplar that threatened to damage the netting of the eagle enclosure.
Damage to the netting is very serious as the eagles are non-releasable due to previous injuries that have impaired their ability to survive in the wild.
"Animals that live here in the Chattahoochee Nature Center are all injured, non-releasable and native to Georgia," Kathryn Dudeck, Wildlife Director of the Chattahoochee Nature Center, confirmed.
"...Eagles are pretty big birds. One of ours has a wing injury and can only fly the length of this [the enclosure]. The other one has a leg injury. Neither one would be able to survive in the wild so we try to give them as much room and ample space to move around as possible."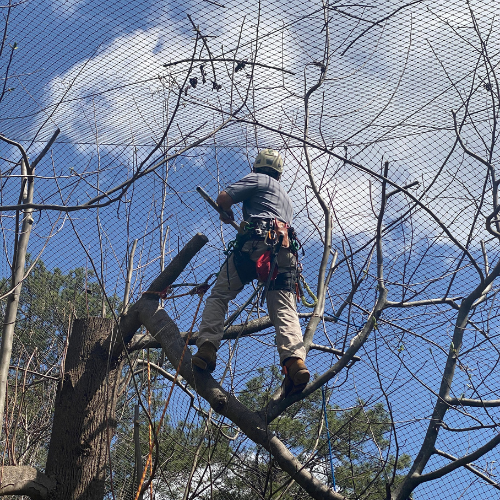 However, the fast-growing tulip poplar impeding the net also began to hinder flight paths in the enclosure. To keep the eagles safe and protected, Nick trims back the spiny limbs every spring during the eagle's yearly health examination.
"Nick is kind enough to donate his skills and services on a regular basis to help keep the aviary in tip-top shape," Kathryn said. "Nick has been known to come out on short notice to help put baby owls back up in nests, baby hawks, and things like that. He's been quite a partner for the wildlife department for the last decade-plus."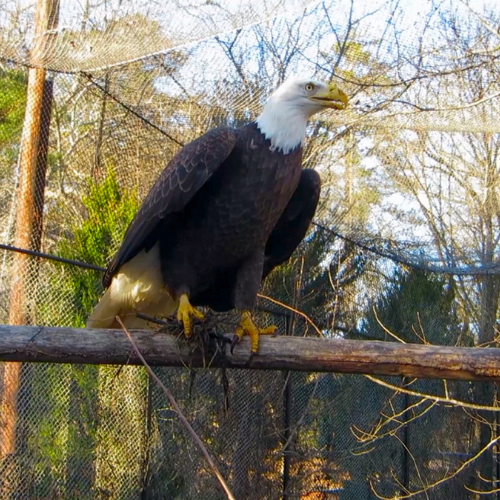 Although topping trees and pruning back limbs isn't a conventional arboricultural practice, it was required to establish the netting in the enclosure.
"This is not a perfect situation," Nick explained. "...The problem is you can't let the sprouts grow through (the netting) so we're forced to prune it back down every year. It's not ideal for the tree, it's pretty harsh actually, but it's what has to be done."
To prioritize eagle safety and minimize net damage, the new sprouts and branches are cut back and cleared from the netting.
"We want to keep the eagles in and safe and protected so we have to do a little trimming on the tulip poplar to keep it short and keep everybody safe," Nick affirmed.
---